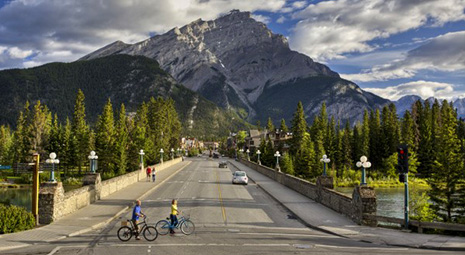 A beautiful townsite located within a National Park, visitors explore the grandeur of our pristine mountains, lakes, glaciers and wildlife, ski the famed Canadian Rockies champagne powder, dine on Rocky Mountain cuisine, enjoy decadent spa treatments and therapeutic hot springs, and to take advantage of the international cultural events as well as eclectic shopping and nightlife.
ACCOMMODATION – WHERE TO STAY
The accommodation range for Banff Hotels is quite wide, ranging from luxury, superior and moderately priced hotel style rooms and suites within a convenient walking distance of the downtown area, to condo, chalet and cabin properties (with kitchen/ettes) on Tunnel Mountain (~3min drive to downtown), and between Banff and Lake Louise on the 1A Highway (~20min to Banff townsite).
GETTING HERE
Banff National Park is an easy 90 min drive west of Calgary (in the province of Alberta), via the 4 lane divided Trans Canada Highway #1. Calgary is serviced by numerous international and charter airlines offering flights from around the world. Banff is also serviced by airporter shuttles, rail and coach services.
GETTING AROUND
While having a rental car will give you the most flexibility to travel at your own pace, Banff is serviced by airporter shuttles, town shuttle and ski shuttles which you can combine to easily get around. The size of the town is small, so it's a flat and picturesque walk from one end of town to the other ~40min. However if you are staying in the Tunnel Mountain area, it's an uphill walk back, or you can use the transit system. Taxi's are easily available and approx $6-10CAD anywhere within the townsite.
CLIMATE
Mountain weather can change rapidly. It's possible to get rain, snow, wind and sunshine on the same day. Generally, the mountain air is cool and dry. Days are usually warm June through September, but it can get cool at night. April, and October through early November, see weather ranging from summer to winter conditions. Winter temperatures dip below freezing, with frequent snowfalls. Temperatures can be as high as 30C/86F in the summer to as low as -30C/22F in the winter.
SNOW
Canadian Rocky Mountain powder snow is world-renowned. Our champagne powder is dry and light. That's because our snow has an average moisture content of 7 percent. Compare this to the average of North American and European Resorts, where 10 percent is typical. December is full of celebrations to mark our white Christmas and the New Year with the town embracing the festive season with lots of decorations, Santa Claus Parade, carolers in the streets, sleigh rides and fireworks. The peak snow months are typically February and March, but as our season extends until end of May, spring (April/May) skiing is wonderfully warm and sunny.
NIGHTLIFE
Fancy martini's in cool lounge bars or have a quiet pint in an Irish pub. Get your groove on a high energy dance clubs, or join in with line dancers and two steppers at the country western pub. Music? Banff enjoys a constantly changing scene of live music. Four screens at the cinema with Hollywood's latest releases.
DINING
Banff has an incredibly lively variety of cuisine to choose with more than 70 restaurants. North Western, Rocky Mountain, French, 5 Diamond, Fusion, Fondue, Chinese, Japanese, Italian, Greek, Thai, Steakhouses, Vegetarian, cafes, bistros, the list goes on. Even the fast food is smart, curries, wood fired pizza, noodles, and of course good old burgers and fries, no taste goes unsatisfied.
SHOPPING
A wide selection of electic shops wait for you along Bear St. From mountain wear essentials to high fashion, the stores along Banff' Ave are filled with everything for everyone.
CULTURAL
For a smallish town by population Banff enjoys an incredibly rich menu of cultural pursuits. Museums showcase an amazing insight into geological and natural history of the Rocky Mountains. Art galleries feature local artists and mountain culture themes like nowhere else. Our treasure however is the Banff Centre which features acclaimed festivals such as Mountain Book and Film, WordFest, Summer Arts series, Opera, Dance and other art series.