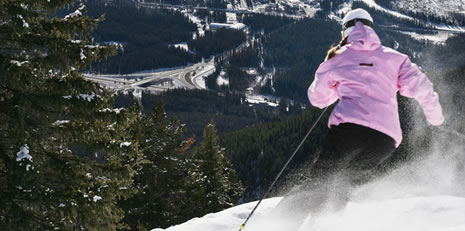 Skiing in the Canadian Rockies for the first time?  Well what have you been waiting for?  From wide open bowls and tree lined glades covered with fresh, dry powder, to meticulous groomed slopes, visitors enjoy unspoiled scenery, short lift lines and friendly hospitality. Canadian Rocky ski resorts enjoy long winter and spring skiing into May, with consistent and reliable light dry snow.
Skiers can easily experience a number of resorts within the same vacation, including the "tri area" of Sunshine Village, Lake Louise and Banff Mt Norquay (on an interchangeable lift ticket), and another 3 resorts Kicking Horse Mountain Resort, Panorama Resort and Nakiska as day trips. Jasper's Marmot Basin is approx a 3hr drive north of Lake Louise on a highway, but driving conditions can be weather dependent.
The following info will assist you in the planning process, but if you would like some personal assistance please feel free to call us on the toll free number or email.  Our agents are friendly, knowledgeable locals (but don't expect them to share their secret powder spots…)
WHERE DO I STAY?
Banff is a townsite with a wide range of accommodation choices and evening entertainment. A main street full of restaurants, bar/lounges, shopping, art galleries, museums, movie theatre etc.
Downtown (within walking distance of shops, restaurants, bar/lounges) is mainly hotel/motel style accommodation (room with one or two beds).  A limited number of condo style (multi bedroom+kitchen+fireplace units) accommodations are located on Tunnel Mountain.  Tunnel Mountain is a ridge that overlooks the downtown area, is NOT a comfortable walking distance, but is serviced by the town shuttle, ski resort shuttles or a short 3min drive or taxi.
Lake Louise is a small mountain village 45 min drive west of Banff with accommodation limited to ~5 properties that remain open during the winter. Great for those preferring a quieter pace, or wanting to be close (10mins) to the Lake Louise Ski Area. Nightlife is limited to facilities within those properties. A small mall with grocery store, gift store, gas station and sports store is located in the village ~10mins from the lake. Activities on and around the lake include sleigh rides, dog sledding, cross country skiing and ice climbing.
Golden is home to the new, dynamic and rapidly developing mountain resort Kicking Horse Mountain Resort. 1.5hrs west of Banff, with a huge vertical of 4,133ft on ex heliski terrain. New ski in /out accommodation (hotel, condo, lodge or private vacation homes). More moderate accommodation choices are available in the Town of Golden ~15min drive away. Nightlife on mountain is limited at this stage of development, but new bars and restaurants are opening each year. The Town of Golden, approx 15mins drive from the ski resort area offers authentic logging town pubs and bars.
Canmore is a beautiful mountain town located 20min east of Banff, outside the National Park. A main street with shopping, many new restaurants, art galleries and its own brew pub. Many choices of new and moderately priced hotel and condo (self contained) style accommodation. Many of the winter activities in the Bow Valley are located in and around Canmore including dog sledding and outstanding cross country skiing at the Nordic Centre.
HOW FAR ARE THE SKI RESORTS?
From Banff, Banff Norquay is ~10mins, Sunshine Village ~ 20mins and Lake Louise ~40mins. From Lake Louise, Banff Norquay is ~40mins, Sunshine Village ~40mins.
Both areas are serviced by an extensive ski shuttle system, departing approx every 40mins.
SKI IN / OUT ACCOMMODATION
Sunshine Village Inn offers the only slope side accommodation in the Banff/Lake Louise area. Accessible only by gondola during operating hours (and after hours by oversnow vehicle by special arrangement), the Sunshine Inn offers packages that include skiing at Sunshine Village only. Great if you love the ski in/out convenience but limits your options for Banff nightlife.
Kicking Horse Mountain Resort in Golden now offers a range of on mountain and ski in/out accommodation including hotels, condos, lodges and private vacation homes.
LIFT TICKETS
Lake Louise, Sunshine Village and Banff Mt Norquay offer one interchangeable "tri area lift ticket". This ticket includes use of all lifts, complimentary use of transportation from Banff or Lake Louise hotels and one free Friday night skiing at Banff Mt Norquay. Minimum number of days purchase is 3.  However they do not have to be used consecutively (for eg. 3 out of 4 days, 5 out of 7 days, etc). You can increase the number of days, but not decrease (without penalty).
Due to the distances between ski resorts it is not feasible to ski two different resorts in the one day.
Prepurchasing your lift tickets within a package saves money and provides you with complimentary use of the ski shuttle system.
You can also buy a day trip (ticket + transportation) to other ski resorts in the area Kicking Horse Mtn Resort, and Panorama Mtn Resort.
GETTING HERE
Flying into the Calgary Airport – YYC will give you the easiest access to Banff, Lake Louise, Golden or Panorama. If skiing Marmot Basin (Jasper) you would be best to fly into Edmonton YEG. Two Canadian airlines, Air Canada and WestJet, as well as a number of international airlines, American Airlines, Horizon Airlines, KLM, Lufthansa, Northwest and United Airlines (United and Lufthansa serve Calgary only) serve these airports.
Driving from Vancouver or the United States border? It's about a 10hr drive (in good winter weather from Vancouver or a 5-6 hr drive from the border entry points, directly south of Banff. Allow plenty of time to drive through mountain passes and winter driving conditions.
GETTING AROUND
You can choose to either rent a vehicle from the Calgary Airport, or use a combination of shuttles.
Calgary Airport shuttles to Banff/Lake Louise hotels, run approx every 2hr hours until 10pm.
Ski Resort Shuttles pick up from most hotels in Banff and run throughout the day.
Town of Banff shuttles run a circuit throughout town, servicing the Tunnel Mountain area, Banff Springs Hotel and Rimrock + Upper Hot Springs. Many visitors elect to a combination of car rental and the complimentary ski shuttles. It's especially handy on the days you don't want to drive due to road conditions, or want to enjoy a few après skis to end the day, or a member of the group wants to sleep in or return back to the hottub early. As demands on the parking areas at the ski resorts continue, it's becoming a preferred mode of travel to get to the slopes.
WHAT IS THE BEST SKI RESORT?
Each mountain offers something different for everyone from Lake Louise's steep back bowls, Sunshine Villages' natural powder, Norquay's fun Friday night skiing and Kicking Horse's huge vertical.
CAN I SNOWBOARD?
Absolutely! Snowboarding is allowed at all resorts within the Canadian Rockies. In fact the three ski areas of Sunshine, Lake Louise and Norquay have extensive terrain parks and Kicking Horse has fabulous freeriding options.
WHEN IS THE BEST TIME TO COME?
Christmas/NYE and the powder season months of Feb/Mar are the busiest months to ski the Canadian Rockies, so reservations must be made well in advance for these dates. Our season continues into late May, so spring skiing in April is warmer, sunnier with big snow bases, but usually lower season rates.  Jan can be the coldest month of the year, but great deals will lure hardier folks.
HOW COLD WILL IT BE?
Month

Celsius

Fahrenheit

Low

High

Low

High

November

-8

1

18

32

December

-14

-5

7

23

January

-15

-5

5

23

February

-11

0

13

32

March

-8

4

18

40

April

-3

9

27

49

May

2

14

34

59
LESSONS & DAYCARE
Each of the resorts offer qualified instructors to help you improve your style while still having fun! Group, private and skill drills are available for adults, children (generally 36) and youths (712). Only the Lake Louise Resort is qualified to daycare children under 19 months.
Club Ski/Snowboard is a program to explore the best of all three resorts? a fun 3 day program, one day at each resort. Meet at a different mountain each day. The program follows a schedule of 3 hours ski instruction in the morning, a break together with all groups for lunch, then guiding around the mountain in the afternoon. Also includes a group photo, optional social function and video analysis. Available for all ability levels.
SKI RENTALS
Save yourself the time and hassle of transporting ski and board equipment from home.
experienced long term staff for fittings
free taxi to store (downtown Bear St location)
swap between different equipment
credit your rental fee towards purchase of new skiis
15% discount for clothing and accessories
drop your equipment at your hotel at end of rental
I DON'T SKI, WHAT CAN I DO?
Lots! Shopping, soak in the natural hot springs, visit museums (including the Canadian Ski Museum), go to the movie theatre, visit the Banff Centre for Culture, go snowshoeing, cross country skiing, dog sledding, snowmobiling, ice canyon walks, horsedrawn sleigh rides, sightseeing gondola, heliskiing, ice skating, go for a spa treatment, and much more. And don't forget about wildlife watching tours? you might even spot an elk or a bighorn sheep during your adventures!
HOW MUCH WILL MY BANFF LAKE LOUISE COST?
Quote a Banff Lake Louise Ski package with our online vacation planner, or always feel free to call our friendly knowledgeable locals on the toll free number (if we don't answer, leave a message, we may have called a powder day…)