The Most Spectacular Train Trips in the World with Rocky Mountaineer from Vancouver or Seattle through to the Canadian Rockies.
Travelling onboard the Rocky Mountaineer is an unforgettable experience, considered by many to be a trip of a lifetime.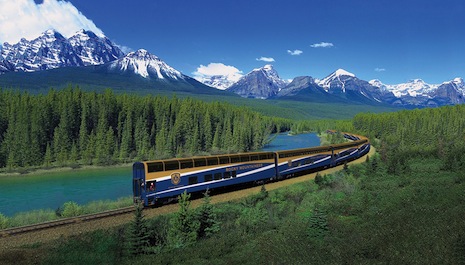 There are many different routes, two service levels and multi-day packages (guided or self drive) that you can choose from, and our local agents can help you find the best fit for your itinerary, budget and time.
However the majority of our clients, start with the classic two-day rail journey from Vancouver to Jasper or Banff and onto Edmonton or Calgary.
Recapture the romance of rail travel as the train follows the historic route constructed over 100 years ago through Canada's West and the Canadian Rockies, uniting the country. The entire train ride takes place during daylight hours to ensure you enjoy every minute of the breathtaking scenery of glacier-fed lakes, majestic mountains ranges and ferocious rivers.
How to book the Rocky Mountaineer Train
The quickest and easiest way to book the Rocky Mountaineer train is through Rocky Mountain Holidays direct. When you book directly through them and not through a travel agent, you will receive their best rates. Be sure to check out our "Hot Deals" page before heading over to Rocky Mountain Holidays to see if you can take advantage of any of our exclusive bonus offers.
Website: RockyMountainHolidays.com
Buy tickets over the phone:

1-888-PH-ROCKY / 1-888-74-76259 (North America toll free)
0800-567-7542 (U.K. free phone)
+1 403-609-0286 (Other countries)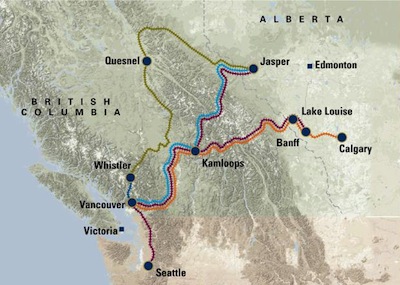 Rocky Mountaineer Vacation Packages
Search all Rocky Mountaineer train vacation packages. Results will appear on the Rocky Mountain Holiday website:

Your main decision when looking at the Rocky Mountaineer Train Journey will be Route and Service Levels.
Routes
The Rocky Mountaineer train travels in both eastbound and westbound directions between the beautiful coastal cities of Seattle (U.S.A.), Vancouver (British Columbia), the resort town of Whistler (British Columbia), and Jasper or Lake Louise, Banff and Calgary, Alberta. There are no day trips onboard the Rocky Mountaineer train.
First Passage to the West – Vancouver – Lake Louise or Banff
Journey through the Clouds – Vancouver – Jasper
Rainforest to Gold Rush – Vancouver – Whistler – Jasper
Coastal Passage Route – Seattle to Vancouver (add-on to any of the above routes only)
Service Levels
Rocky Mountaineer is well known for excellent service and warm Canadian hospitality.
2 Service Levels are available on the Canadian Rocky Mountain routes.
Choose from:-