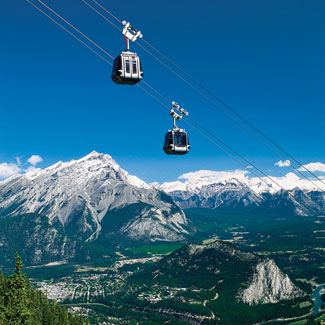 The Banff Sightseeing Gondola is located just 5 mintues from the Town of Banff, on the shoulder of Sulphur Mountain, in the heart of the Canadian Rockies.
Sit back and relax in a 4 passenger, glass enclosed gondola. Marvel at the unsurpassed view of Banff, the Bow Valley and a 360 degree view of six scenic mountain ranges from 2281m (7486ft) above sea level.  
You will feel like you're on top of the world when you are standing on the spacious main level observation deck, where the optional Banff Skywalk (an 1km self-guided interpretive walkway) leads you to the Cosmic Ray Station National Historic Site and Sanson's Peak Meteorological Station.
Other services at the Banff Gondola include two gift shops, two restaurants, a Starbucks coffee shop, one snack bar, interpretive hiking trails and an interactive giant compass.
Prices:
$64 per adult
$31 per child (6-15 years)
Free for children 0-5 years
Remember to bring:
Warm clothes – dress for the weather
Remember your camera!
Operating Hours 2018:
Jan 20 – Mar 29, 2018
10 AM – 4:30 PM* Mon. & Tue.
10 AM – 8:30 PM* Wed. to Sun.
Mar 30 – May 17, 2018
9 AM – 8:30 PM*
May 18 – Jun 30, 2018
8 AM – 9:30 PM*
Jul 1 – Sep 3, 2018
8 AM – 10:30 PM*
Sep 4 – Oct 8, 2018
8 AM – 8:30 PM*
*Last ride up: 30 minutes prior to close
*Last ride down: At closing time
Norquay Sightseeing Chairlift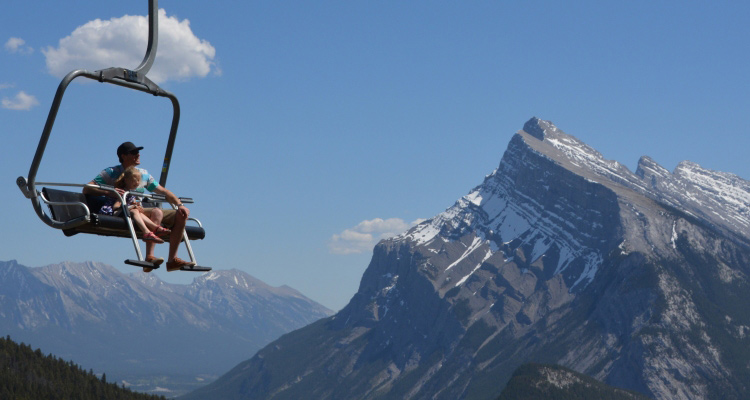 The Banff Norquay Sightseeing Chairlift will take you to a new view of Banff; take a 15 Minute chairlift ride from Banff Mt Norquay Ski Resort and experience Banff like never before. Get spectacular views looking down onto the Town of Banff and across the Spray and Bow Valley with the stunning jagged edges of Mt Rundle; a feature for all of your photos.  Relax over a snack or meal, craft brews or a glass of wine at the Cliff House Bistro.
Prices:
$35 for adults (16+)
$24 for children (6-15)
Children 5 and under are free
Lake Louise Gondola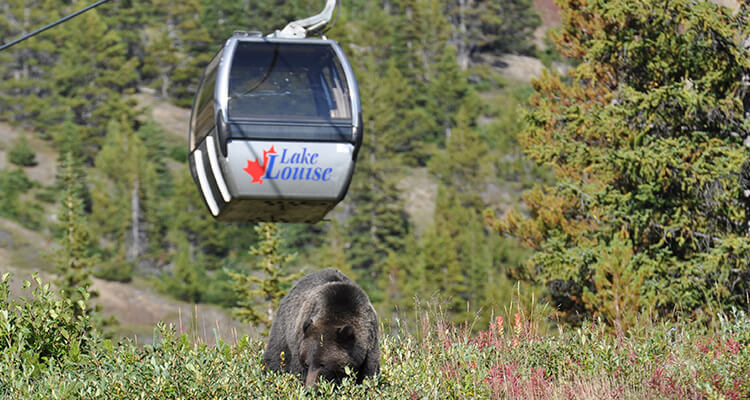 Cruise for 14 glorious minutes, in an open chair or a fully enclosed gondola, to one of the Banff National Park's greatest views! From the top, at 2088m (6850ft), the spectacular scenery is yours to explore at will – there are ambitious hikes to the summit of Mt. Whitehorn for the hardy, or equally lovely short, leisurely strolls for those with more modest exercise goals.
Prices:
$35.95 for adults (16+)
$16.95 for children (6-15)
Children 5 and under are free
Sunshine Gondola and Chairlift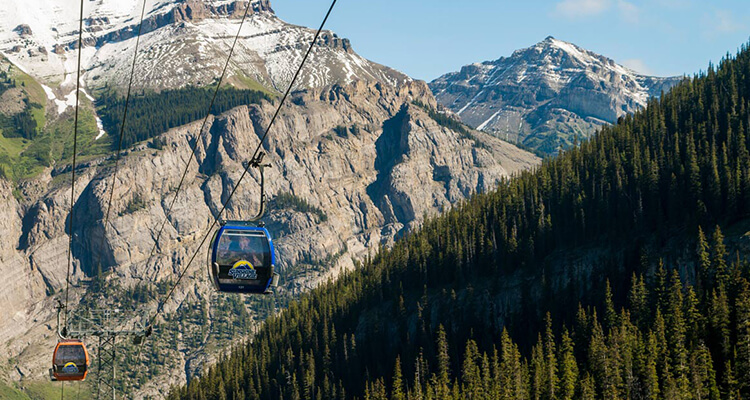 Sitting on the doorstep of some of the best hiking in the world, you set the pace for your own adventure by catching the scenic Gondola and going even higher on the Standish Chairlift to reach those views you always dreamt of. Catch a glimpse of the local red fox while rambling to pristine alpine lakes and losing count of all those snow-capped peaks surrounding you. You also have the option to dine on top of the world or go on a photo journey capturing alpine life at above 7,000 feet.
Prices:
$42 for adults (16+)
$21 for children (6-15)
Children 5 and under are free