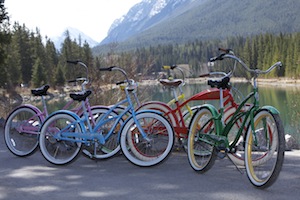 Renting a bike in Banff is the perfect way to slow down and visit the special areas around the Banff townsite.
A number of flat, paved bike paths are available within the Banff townsite. Along the Bow River to Sundance Canyon, through Fenland Trail to Vermillion Lakies, the new Legacy Trail from Banff townsite to Cascade Ponds and onto Canmore.
Whether you choose the urban paths or explore outside the town, Electra cruiser bikes are easy to ride, comfortable, cool and available for rent at Banff Blue Canoe.
Mountain bike rentals:
Front suspension: Hourly $14 /  Daily $42
Full suspension: Hourly $16 / Daily $55
Where to meet:
Rentals must be picked up and dropped off from the Banff Canoe Club docks
Itinerary and highlights:
Explore Banff: See more, but still stay in the fresh air
Includes:
Remember to bring:
Brochure map that shows you some routes and highlights to ride to
Your camera!
Restrictions:
Minors must be accompanied by an adult to rent a bicycle
A valid piece of I.D. must be left as security