Heli-skiing (Panorama)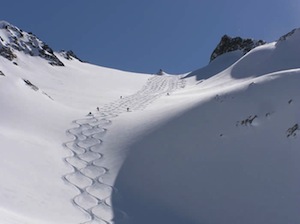 The Purcell Mountains are a great place to discover the endless powder of heli-skiing and snowboarding. A 3 Run Package is tailored towards our more intermediate or beginner heli-skiers. If it turns out that 3 Runs are not enough, you can always try the 5 run package. The 5 Run Powder Adventure is the best way to get your Kootenay Powder Fix. Daily 5 run packages are offered to more advanced skiers as well as return cat / heli-skiers and boarders. With 5 Runs averaging 1100 vertical meters each, you are sure to be satisfied!
Tour details:
Departs Panorama at 8:00am or Banff at 5.45am (if transport is purchased).
Tour Includes: Certified Guides & transceivers, Rental of Powder Skis, Cooked breakfast, Picnic lunch and a Certificate and Pin!
Transport from Banff is an additional $130, from Lake Louise for $170 per person
Pricing:
3 runs for $847
5 runs for $998
Restrictions:
Heli-skiing is only available for intermediate to expert skiers
Skiers and boarders must be of reasonable physical fitness
A minimum age of 14 years old is required and an adult or guardian must accompany the minor during every run
Backpacks, cell phones and musical devices are not permitted
Mimumum numbers to confirm is 4
Self-driven customers should leave Banff by 6 AM
Cancellations due to weather entitles customers to a full refund if rescheduling is not an option
Insert heli-skiing booking link:
Heli-skiing (Golden)
Enjoy everything that heli-skiing has to offer – untouched terrain, incredible snow and breathtaking views. From first timers, to seasoned heli-skiers this day will provide an unforgettable adventure! Try the 5 run package or if skiing great powder in beautiful terrain is what you live for, try the Multi-Day package in our winter playground.
For one day or many, join a group for an unforgettable day of first tracks and fresh backcountry powder.
Groups are made up of 9 guests and 3 guides, and all 12 fly out to the terrain together. Once you have started skiing, the group can be split according to participant ability.
It's a full day program starting with a concise but thorough safety orientation, then a thrilling flight takes you to the operating area where you'll ski/ride five runs of fresh tracks in backcountry heaven. Five may not be enough!
Tour details:
Departs Golden at 8:15am
Tour includes: Certified Guides, Rental of Powder Skis, Picnic lunch, Certificate, Pin and Apres-ski Cheese Platter!
Multi-day rate applies when two days or more of heli-skiing is booked under the same reservation within the same season. Days need not be consecutive and can fall on any day of the week. Days are non-transferable.
Pricing:
5 runs for $1249
5 run package – multiday rate (2 or more days skiing in a season) for $1179
Restrictions:
Heli-skiing is only available for intermediate to expert skiers
Skiers and boarders must be of reasonable physical fitness
A minimum age of 14 years old is required and an adult or guardian must accompany the minor during every run
Backpacks, cell phones and musical devices are not permitted
No transportation is offered
Cancellations due to weather entitle customers to a full refund if rescheduling is not an option. Every cancelled customer will receive a free half day lift ticket for Kicking Horse Mountain Resort