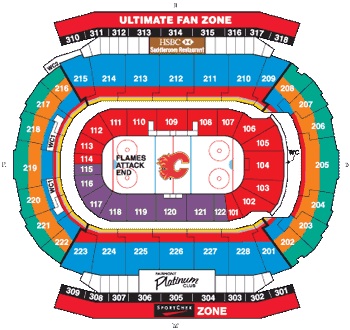 Watch a Calgary Flames NHL Ice Hockey game. Cheer on the Calgary Flames and get ready for some fast paced, action-packed hockey. This is the highest level of hockey in the world and a national pastime in Canada. Games are at the famed Calgary Saddledome and are suitable for the whole family. Unsure of the rules? Rest easy, the tour includes expert commentary from your on-board guide.
Price:
Departs Banff:
4:15pm or 5:15pm depending on game schedule
Duration:
Depends on length of game
Where to Meet:
Itinerary and Highlights:
45 seater luxury coach equipped with washroom facilities
Onboard hockey highlight videos
Cheer on the Calgary Flames along with 17,000 people
Be part of Canada's national sport!
Your Tour Includes:
Hotel Pick up and drop off
Round trip transportation from Banff
Hockey ticket
Onboard guide
List of hockey rules and souvenir puck
Remember to bring:
Money for snacks and hot dogs at the Calgary Saddledome
Don't forget your camera!
Restrictions:
Prices are for all ages.
Please note that alcohol is strictly prohibited on the bus and in the Calgary Saddledome.
This tour is very popular and will sell out early. Please reserve early to avoid disappointment.
Green and Black tickets are available to book on the website.
| | | |
| --- | --- | --- |
| DATE | GAME TIME | OPPONENT |
| 12/22/2012 | 7:00 PM | Calgary Flames vs. Detroit Red Wings |
| 1/07/2013 | 8:00 PM | Calgary Flames vs. Minnesota Wild |
| 1/12/2013 | 7:00 PM | Calgary Flames vs. Anaheim Ducks |
| 1/24/2013 | 7:00 PM | Calgary Flames vs. San Jose Sharks |
| 1/31/2013 | 7:00 PM | Calgary Flames vs. Detroit Red Wings |
| 2/03/2013 | 7:00 PM | Calgary Flames vs. Chicago Blackhawks |
| 2/11/2013 | 8:00 PM | Calgary Flames vs. Vancouver Canucks |
| 2/14/2013 | 7:00 PM | Calgary Flames vs. Toronto Maple Leafs |
| 2/21/2013 | 7:00 PM | Calgary Flames vs. Edmonton Oilers |
| 2/25/2013 | 7:00 PM | Calgary Flames vs. Philadelphia Flyers |
| 3/04/2013 | 4:00 PM | Calgary Flames vs. Dallas Stars |
| 3/06/2013 | 7:00 PM | Calgary Flames vs. Montreal Canadiens |
| 3/09/2013 | 7:00 PM | Calgary Flames vs. Winnipeg Jets |
| 3/15/2013 | 7:00 PM | Calgary Flames vs. Phoenix Coyotes |
| 3/26/2013 | 7:00 PM | Calgary Flames vs. Dallas Stars |
| 3/30/2013 | 7:00 PM | Calgary Flames vs. Colorado Avalanche |
| 4/05/2013 | 7:00 PM | Calgary Flames vs. Vancouver Canucks |
| 4/07/2013 | 2:00 PM | Calgary Flames vs. Anaheim Ducks |