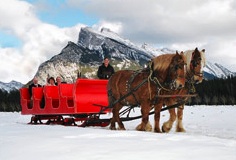 Join us on a sleigh ride with your family, friends or loved ones. Relax and take in the breathtaking views and sparkling winter air of the Canadian Rocky Mountains. The sleigh ride will take you through the Bow River Valley showing you the remote areas around Banff, western style!
Banff group sleigh rides:
$36 for adults
$27 for children (4-12)
Private sleigh rides:
Departs:
Group sleigh rides operate Monday – Thursday: 11am – 4pm, on the hour. Friday – Sunday: 10am – 7pm, on the hour
Private Sleigh Rides operate Monday – Thursday: 11:30am, 12.30pm, 13.30pm, 14.30pm, and 15.30pm. Friday – Sunday: 10.30am – 18.30pm (every hour)
Duration:
45 minutes
Where to Meet:
Warner Stables in Banff
Your tour includes:
Cowboy guide/sleigh driver
Warm blankets
Itinerary and highlights:
Explore the Bow River Valley cozied up under warm blankets beside family or friends.
Bow River
Views of Sulphur Mountain
Canadian Pacific Railway
Remember to bring:
Warm clothes, including hats, gloves and warm boots.
Don't forget your camera
Restrictions:
Transport is not provided with this tour, guests must make their own way to Warner Stables.
Children under 3 years old are not guaranteed a seat.