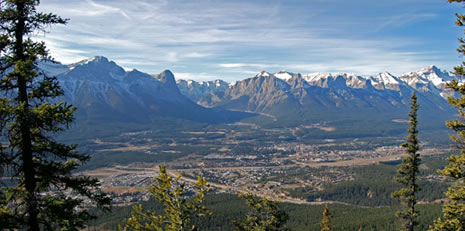 ACCOMMODATION – WHERE TO STAY
In the last 10 years the selection of accommodation options in Canmore have dramatically expanded. Generally hotel and condominium is a little less expensive than inside the National Park, but this is offset by a slightly longer drive each day to get to the attraction of the National Parks. Today there is an excellent selection of hotels, condominiums, private vacation homes and even some unique country inns.
GETTING HERE
Canmore is an easy 1 hour 20 minute drive from Calgary along the TransCanada Highway. As the last community before entering the National Parks from the east, there is no need to pay National Park fees until actually visiting the Banff National Park. Canmore is just 20 minutes east of Banff. There are airport shuttle transfers between Canmore and Calgary Airport.
GETTING AROUND
Having a car is almost essential if staying in Canmore. Most daytime activities involve traveling into the mountains to reach hiking trails and attractions.  If you are participating in paid tours and activities, most companies will provide transportation options. For skiers, you must drive to the ski resorts inside the National Park, 20-50 minutes depending on the resort you choose. There is also 1 ski resorts east of Canmore, Nakiska which is about 40 minutes away.
WHAT TO SEE
Canmore is most often used as a base for exploring the Banff National Park and all the spectacular scenery, wildlife and sightseeing it offers. However there are also many experiences to explore around Canmore itself. As the closest community to Kananaskis Country, many hikers and mountain bikers choose Canmore. Spray Lakes, Grotto Canyon and Cougar Creek are popular areas to hike and explore. Visit the Nordic Centre, location for the Nordic ski events during the 1988 Calgary Winter Olympics. Canmore is also a centre for alpine water based activities, rafting, kayaking on you own or in an organized trip. Canmore also has a world class reputation for fishing – the bull trout are a prize. Within the town, Canmore provides an excellent diversity of shopping and an ever increasing selection cafes and restaurants. For golfers, Canmore offers perhaps the best selection of superb and sometimes challenging mountain golf courses. Silvertip, Stewart Creek are gaining worldwide reputation and are supported by several excellent smaller courses.
CLIMATE
Canmore shares the same Canadian Rocky Mountain climate as Banff and Lake Louise. In summer from mid June to mid September, days are usually warm and it is comfortable to wear short sleeves. But be aware in the mountains that a string of warm days can be followed by cooler days requiring a light sweater. Always pack a wind and waterproof jacket – no matter the time of year. Spring and Fall are both cool and it is common for temperatures to drop below freezing overnight. In winter, November – March, be prepared for snow and cold temperatures and hats and gloves are mandatory. These cold temperatures are what make skiing so wonderful in the Rocking – creating light dry powder snow. At anytime in winter it is possible to experience an arctic outflow where temperatures drop and stay well below freezing. Most activities can still be enjoyed but extra layers of clothing are needed.
NIGHTLIFE
Pubs dominate the nightlife scene. Most nights you'll find a mixture of visitors and locals elbow to elbow, enjoying the social Canadian style pub scene. Some pubs book live music acts regularly so check local guides while you are in town. Don't expect to find a disco in town and dress standards are more casual than formal. Some restaurants are now offering lounges that that are worth a visit in themselves.
DINING
The range, diversity and quality of dining in Canmore is now at a standard to rival any mountain town. Accomplished chefs from around the world are attracted for the unique ingredients available in the North West. Expect menus to tempt you with salmon, game meats and Alberta AAA beef. All of this made even more enjoyable in contemporary mountain d'cor and smart service. For those needing Japanese, Thai, Italian, Greek or French, almost every style can be found. Family restaurants provide kid-friendly choices and almost every fast food quick fix can also be found.
SHOPPING
Canmore's main shopping street has extended to new retail areas in recently opened condominium hotels, doubling the opportunity. There are less souvenir stores and more arts and crafts and galleries that you might expect in a popular tourist town. The are several mountain outfitters stocked up with the latest technical and comfortable clothes and equipment for the mountains – so if you didn't arrive prepared, this is a great place to deck yourself out. Since the area is so popular for mountain biking, there is more than one store dedicated to the state of the technology in biking.
CULTURAL
A strong climbing community exists in Canmore and you won't be able to miss the number of fit if not sinewy locals. Mountains, rock cliffs, ice or even just boulders, if it can be climbed, someone in Canmore will do it. For the visitor, check the local bulletin boards and papers for what's on. Through the summer, there are festivals almost every week. Children's Festival, Mozart in the Mountains, Folk Music and the Scottish Highland Games dominate the schedule. For art-lovers, scour the local galleries for paintings, jewelry, ceramics, photography and some unique metal workers.