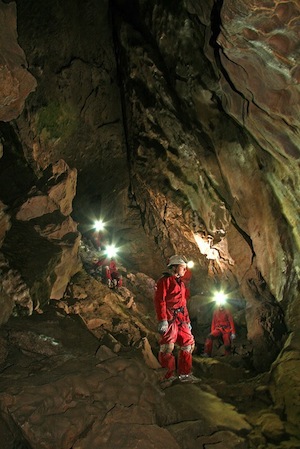 Explore the limestone cave system in Grotto Mountain near Canmore, Alberta. Experienced guides will interpret the fascinating natural history of this exciting underground world – through twisting passages and chambers of stalactites and stalagmites, animal bones and fossils. This is an ideal year round activity as the caves remain a constant 5C (41F) all year. Cool in summer, mild in winter.
Caving is physically challenging but no experience is necessary for any of the tours.
Participants should be fit, anyone who hikes, cycles, rafts, skis, or snowshoes will enjoy this unique experience.
Rat's Nest Cave is a wild, undeveloped cave with no artifical lights, boardwalks or handrails.
Two tours into Rat's Nest Cave are offered;
ADVENTURE CAVE TOUR:
Rappel/abseil an 18m (60ft) drop, climb and traverse both large and narrow passages. Plus the Laundry Chute. Tour lasts approximately 6 hours. Minimum age 12yrs, 85lbs (38kg)
Rates
Adult: $165
Child: (10-15) $145
EXPLORER CAVE TOUR:
Similar to the Adventure Tour but does not include the rappel or Laundry Chute. Allow 4.5 hours return to Canmore. Minimum age 10yrs
Rates
Adult: $130
Child: (10-15) $115
Each tour starts on the 20-25min hike through pine forest to a canyon leading to the cave entrance. Here you change into caving equipment – helmets, lights,coveralls, knee pads and groves. You will receive a safety briefing prior to starting the tour. Your expert guide will take you through the twisting passages and chambers down to the tranquil pool in the grotto.
Rat's Nest Cave is a constant 5C (41F) all year. How is that? Because caves reflect the mean annual temperature so no matter what the outside weather it's always pleasant inside the cave. Like most alpine caves, it is cool in summer and mild in winter.