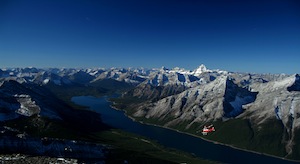 THREE SISTERS PEAKS HELICOPTER SIGHTSEEING:
An excellent tour for the first-time flyer in the Canadian Rockies. Escape to the Spray Valley and the spine of the Goat Range.
Itinerary & Highlights:
There are few things more spectacular than lifting off in a helicopter and soaring over The Rocky Mountains and out over its shimmering lakes. This 15 min flight will give you a taste of the spectacular scenery that surrounds us.
Price: $119.00 per person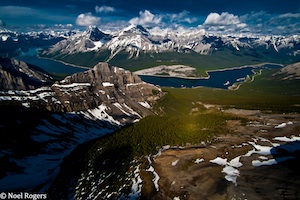 MOUNT ASSINIBOINE HELICOPTER SIGHTSEEING:
This sensational flight will transport you to "The Matterhorn of the Canadian Rockies", which rises majestically to 3,611 metres (11,870 feet) along the Great Divide. The surrounding glaciers and icefalls will astound you and capture your imagination. This 30 min flight is a photographers dream come true!
Itinerary & Highlights:
Unparalleled views of the vastness of the Rocky Mountains
Views of unspoiled wilderness, beauty and majestic landscapes
Mount Assiniboine- the "Matterhorn of the Canadian Rockies"
Price: $269.00 per person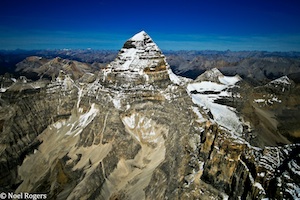 ROYAL CANADIAN HELICOPTER SIGHTSEEING:
Your journey will take you to new heights along the Goat and Sundance ranges, where you will see mountain peaks, alpine meadows and pristine lakes. This 25 min extraordinary adventure not to be missed!
Itinerary & Highlights:
Fantastic views of the Goat Creek and Sundance Ranges
Price: $239.00 per person
Departs:
Departures are available throughout the day.
Where to meet:
Transport is available from Banff for certain departures. Please inquire.
Your tour includes:
Hotel pick-up and drop-off (certain departures only)
Remember to bring:
Warm clothes. As you gain elevation, the temperature will drop.
Don't forget your camera!
Restrictions:
Prices are based on a minimum of two passengers.
Price is per passenger, regardless of age.
No loose articles. zips, ties and belts on clothing must be secured.
Tours depend on weather conditions and must be confirmed the morning of the flight.
Not recommended for children under 3 years of age.